Habit 2: Begin With the End in Mind®
Productivity
"Your most important work is always ahead of you, never behind you."


HABIT 2: BEGIN WITH THE END IN MIND
Focus time and energy on things that can be controlled.
So, what do you want to be when you grow up? That question may appear a little trite, but think about it for a moment. Are you–right now–who you want to be, what you dreamed you'd be, doing what you always wanted to do? Be honest. Sometimes people find themselves achieving victories that are empty–successes that have come at the expense of things that were far more valuable to them. If your ladder is not leaning against the right wall, every step you take gets you to the wrong place faster.

New 7 Habits Webcast Series
THE 7 HABITS COACH:
HOW TO DEAL WITH CHANGE AND UNCERTAINTY
The 7 Habits of Highly Effective People® will help you navigate very real problems in challenging times. This series will be delivered to your inbox each day for the next ten business days. You can stop at any time; however, these are valuable resources to help you, your family, your colleagues, and your friends thrive during uncertain times.
"People are working harder than ever, but because they lack clarity and vision, they aren't getting very far. They, in essence, are pushing a rope with all of their might."

Dr. Stephen

R. Covey
Habit 2 is based on imagination–the ability to envision in your mind what you cannot at present see with your eyes. It is based on the principle that all things are created twice. There is a mental (first) creation, and a physical (second) creation. The physical creation follows the mental, just as a building follows a blueprint. If you don't make a conscious effort to visualize who you are and what you want in life, then you empower other people and circumstances to shape you and your life by default. It's about connecting again with your own uniqueness and then defining the personal, moral, and ethical guidelines within which you can most happily express and fulfill yourself.

The 7 Habits® 30th Anniversary
THE 7 HABITS OF HIGHLY EFFECTIVE PEOPLE
30TH ANNIVERSARY EDITION
This special 30th Anniversary Edition commemorates the timeless wisdom of the 7 Habits® for a new generation with the book's original content along with personal insights at the end of each chapter by Stephen Covey's son Sean Covey.

Understand the end result
Begin with the End in Mind means to begin each day, task, or project with a clear vision of your desired direction and destination, and then continue by flexing your proactive muscles to make things happen.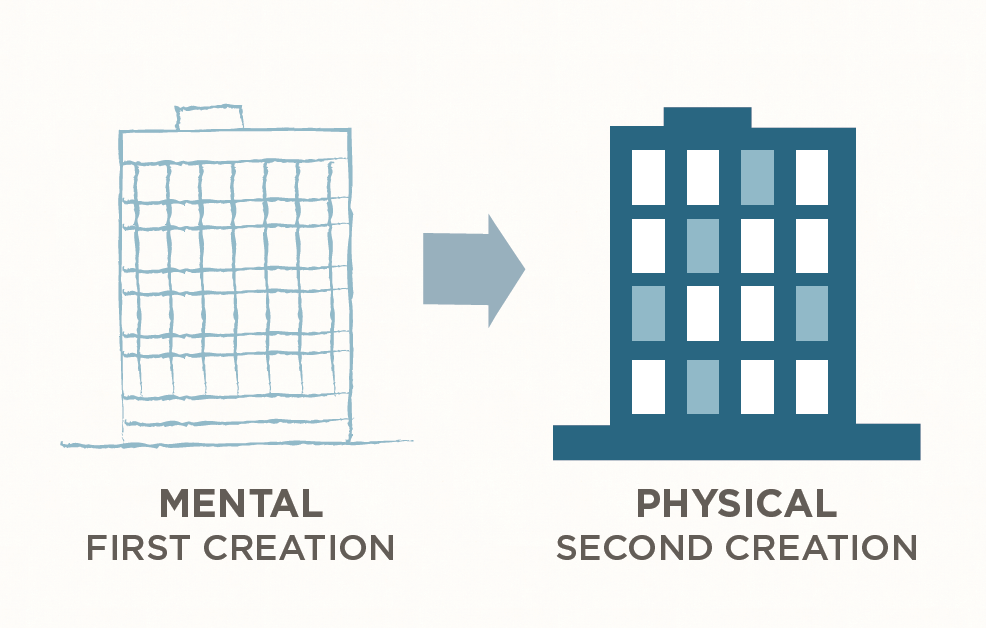 One of the best ways to incorporate Habit 2 into your life is to develop a Personal Mission Statement. It focuses on what you want to be and do. It is your plan for success. It reaffirms who you are, puts your goals in focus, and moves your ideas into the real world. Your mission statement makes you the leader of your own life. You create your own destiny and secure the future you envision.

Make The Mental Leap to Leader
A SIX-STEP GUIDE FOR FIRST-LEVEL LEADERS
This free and impactful guide will walk your first-level leaders through proven solutions to some of the most common issues leaders face. Share it with your first-level leaders to help them build their confidence and skills, and to drive your organizational results.

Solutions That Focus on The End In Mind
The 7 Habits of Highly Effective People
Sets the foundation for professional effectiveness – increasing productivity, restoring balance, and developing greater maturity and responsibility.
Leading at The Speed of Trust
Helps your leaders identify and close trust gaps that exist in your organization. As a result of attending this work session, participants will be able to better manage change and lead high performing teams that are agile, collaborative, innovative, and engaged.