Access the Best Content When and Where You Want
Explore our library of On Demand personal workshops and experience world-class content.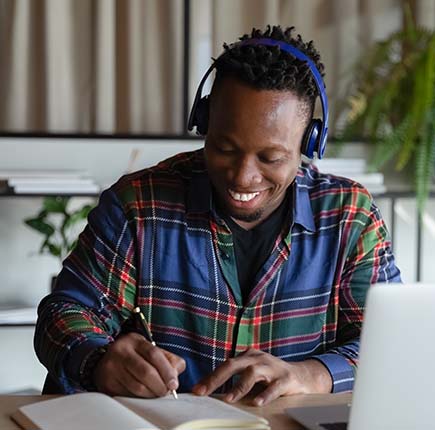 You Set the Pace.
Packed schedule? We get it. Our On Demand offerings are for those who want to take things at their own speed. These solutions allow you to develop the mindsets, skillsets, and toolsets you need to succeed in the way that works best for you, all from the comfort of your own home or office.
Our On Demand library features some of our greatest solutions to help leaders and individuals instill better habits, build trust, and create better results.
Your individual membership includes one year of unlimited access to 88 courses across 16 collections of impactful content—for just $349.
The On Demand Library Includes:
Frequently Asked Questions
How long does my On Demand subscription last?

The subscription to FranklinCovey's On Demand library is for one year.

What is included in the On Demand library?

FranklinCovey's On Demand courses cover a wide range of leadership, productivity, and business skills. The library is made up of 88 modules from 16 collections, including The 7 Habits of Highly Effective People®, The 4 Essential Roles of Leadership™, The 5 Choices to Extraordinary Productivity®, and more.

Can I subscribe to a single module or title?

FranklinCovey's On Demand library is only available as a complete collection with unlimited, self-paced access for one year.

Will my subscription automatically renew?

No, your subscription will not automatically renew. New modules are added regularly, and we hope you will consider subscribing again to continue your personal and professional growth.

How do I access the On Demand library?

New subscribers will receive an email with login credentials from [email protected]. If you are a current subscriber, you can access the library by clicking here.

Can I share my On Demand subscription?

Each subscription is for an individual user and should not be shared with others.

How do I contact Customer Service or Technical Support?

Our customer representatives are available to take your call Monday through Friday between 8:00 a.m. and 5:00 p.m. MST at 1-800-391-1492. You can also reach us via email at [email protected].
Franklin Covey respects your privacy and is committed to protecting your personal data. This privacy notice describes how your personal data is collected, handled, and stored to meet Franklin Covey's protection standards—and to comply with the law.
How can we help? Please let us know.