Discipline 3: Keep a Compelling Scoreboard

Execution
"Execution doesn't like complexity. The two best friends of execution are simplicity and transparency."

Discipline 3: Keep a Compelling Scoreboard
People and teams play differently when they are keeping score, and the right kind of scoreboards motivate the players to win.
People play differently when they are keeping score. If you doubt this, watch a group of teenagers playing basketball. See how the game changes the minute score-keeping begins, it's not a subtle change.
The lag and lead measures won't have much meaning to the team unless they can see the progress in real time. Bowling through a curtain is not that much fun. Discipline 3 is the discipline of engagement. People perform best when they are emotionally engaged and the highest level of engagement comes when people who the score: whether they are winning or losing the game. It's that simple.

"Great teams know at every moment whether or not they are winning. They must know, otherwise, they don't know what they have to do to win the game."


Chris

McChesney
The best scoreboard is designed for, and often by the players. A player's scoreboard is quite different from the complex scoreboard that coaches love to make. If players know the score, if they can influence the lead measure and if the lead measure moves the lag measures, you know you have a winnable game. Disciplines 1, 2 and 3 are nothing more than a formula for creating a winnable game. Discipline 4 is how we play that game.

Keep a Compelling Scoreboard
The scoreboard is not just for the leaders. The scoreboard is for the whole team. To drive execution you need a players' scoreboard that has a few simple graphs on it indicating: Here's where we need to be and here's where we are right now.
With a successful scoreboard, anyone looking at it can determine in five seconds or less whether the team is winning or losing.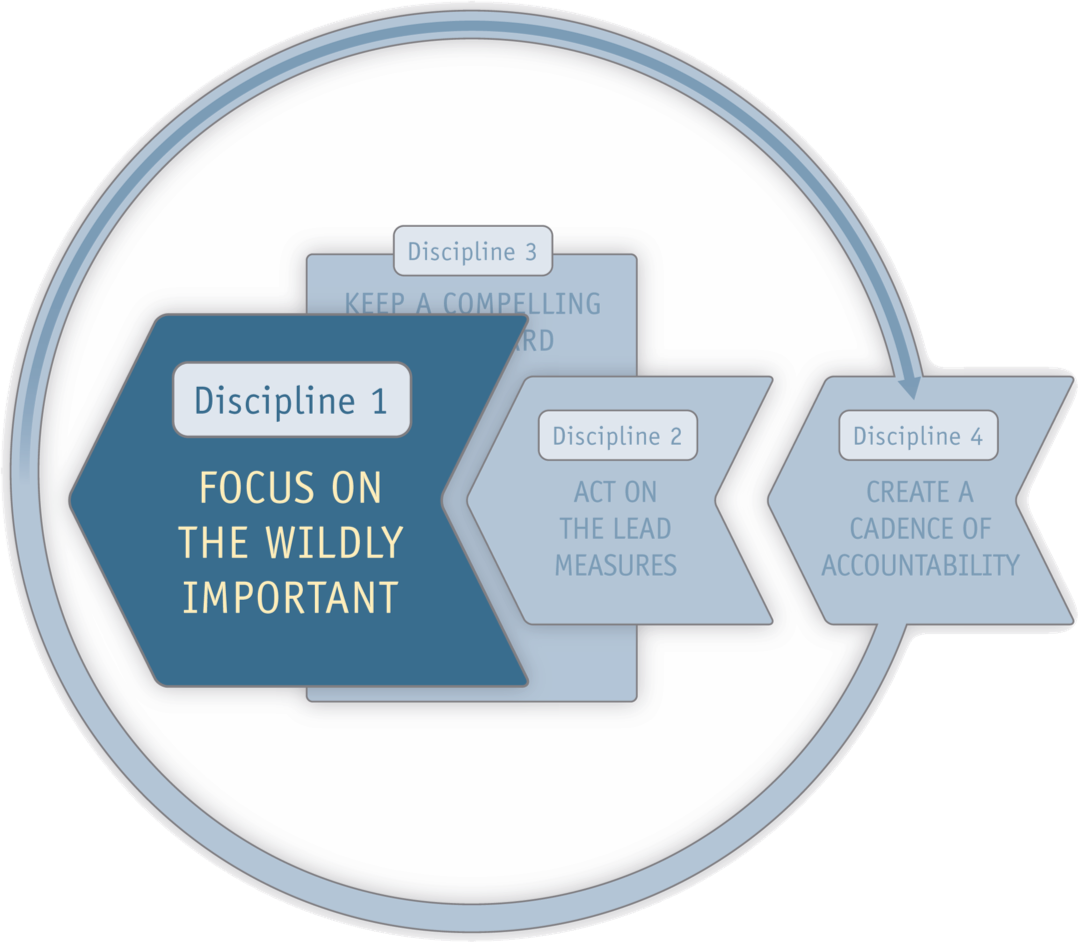 Solutions That Focus on The 4 Disciplines
The 4 Disciplines of Execution®
This organization-wide transformation process teaches and sustains the behaviors necessary to execute the most important goals. It ensures that managers and employees identify and execute their highest priorities through focusing on the Wildly Important Goals, translating top goals into specific actions, creating a compelling scoreboard, and holding each other accountable.
The 4 Disciplines of Execution – Book
The 4 Disciplines of Execution is a simple, repeatable, and proven formula for executing on your most important strategic priorities in the midst of "the whirlwind." The 4 Disciplines of Execution is not theory. It is a proven set of practices that have been tested and refined by hundreds of organizations and thousands of teams over many years. The 4 Disciplines of Execution represents a new way of thinking and working that is essential to thriving in today's competitive climate.