Executive Coaching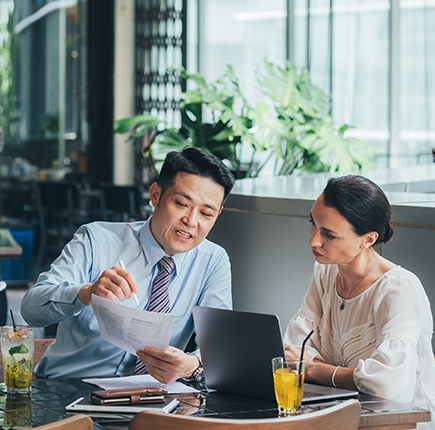 The Key to Success for Executives
There is a reason the best organizations in the world provide executive coaching to their leaders. Whether they need to prepare leaders for transition, develop critical skills, mediate specific behaviors, or support continued success, executive coaching provides immediate results and prepares leaders for the future.
Coaching has proven to be one of the most effective tools to create permanent and positive behavioral change in leaders. Rooted in proven industry best practices and drawing from our best-in-class content, FranklinCovey's coaching methodology is cutting edge and effective. Our engagement success is consistently rated greater than 95%, head and shoulders above industry averages.

My coach was terrific, as I transitioned into a new role. She was candid and insightful and enabled me to tease out issues, with which I was grappling, and develop strategies to address them. I truly enjoyed our time together and am grateful for the benefit of her wisdom and expertise.
Our Methodology
FranklinCovey offers a professional services firm approach to executive coaching with a time-bound process where alignment and partnership are the keys to success. Our coaching methodology is a data-driven experience where success is measured against preset objectives.
Whether your leaders need to develop executive presence, executive-level communication, financial acumen, or build strategic working relationships—the FranklinCovey Executive Coaching Methodology is flexible to your organization's unique needs and circumstances.
1. Aligning Objectives and Defining Success

Initial Consult and Coach Match
Initial Coach/Candidate Match
Sponsor Team Meeting

Discuss objectives and define success with: Manager, Candidate, HR/Talent, and Coach

2. Data Collection and Relationship Building

Candidate Data

Life/Career history
Psychometric assessment
360° interviews and/or survey
Competency models and internal reviews

Business Knowledge and Data

Internal: culture, business strategy, talent strategy, role success, performance indicators
External: industry, climate, competitors, wild cards

3. Data Debriefing and Behavioral Coaching

Debrief With Purpose of Creating Behavioral Change Items

Leverage strengths
Develop opportunity areas
Mitigate deficit areas

Meet Approximately Every Three Weeks to Allow Candidate Time to Practice Change
Follow-up Sponsor Team Meeting (Mid-Phase 3)
Pulse Check (360°) Survey at Conclusion of Phase 3

4. Transition and Sustainability

Action Planning

Create a formal, written development plan.
Candidate presents a draft to their manager.

Formal Transition Meetings With Sponsor Team

Assign support roles
Schedule follow-up meetings between candidate and sponsor team

Final Meeting Between Coach and Candidate
Free Webcast
Be a Better Leader: Lead Through Change
Successfully navigating change requires more than process alone—it's your people who make the change happen. Equip employees at all levels to accelerate and optimize change.
Free Podcast
C-Suite Conversations With Scott Miller
FranklinCovey's latest podcast features insightful and revealing conversations with titans of the c-suite.
Engage With Us
When you engage FranklinCovey's executive coaching services, you're buying a result, not just a set number of hours. If your result requires more, or less, one on one time, our methodology is flexible. In this way, we are just as committed to achieving the end result as you are.
Whether you need to coach one executive or one thousand, our methodology and capabilities are highly reliable and scalable. Leverage our wide breadth of coaches from across industries and their vast intellectual diversity to prepare your leaders for today, tomorrow, and beyond.
Our Coaches Located Across North America
Schedule an executive coach.