Choice 4: Rule your technology, don't let it rule you
Productivity
"In the midst of chaos, there is also opportunity."

Choice 4: Rule your technology, don't let it rule you
Make technology work for you, not against you. Turn your technology into a productivity engine.
Current technology provides such immediate responsiveness to our actions that we can be caught up in responding, thinking we are being productive, when in fact we are only being distracted. The first step in making technology your servant and not your master is to come to terms with how you are behaving with your own technology. Are you using your technology to respond to needless and unimportant interruptions, or to waste time avoiding work?
"Technology can accelerate the inflow of gravel into our lives, burying us faster under a mountain of less important things."


Kory

Kogon, Co-Author of The 5 Choices to Extraordinary Productivity
Once you have confronted your relationship with technology, you are in a position to use it as a powerful tool to help you be more proactive, reach goals and be productive. In the end, technology is not the problem; it is how conscious and deliberate we are about how we use it. Our brains may love the novelty of technology, but by getting very clear as to what is really important to us and using our conscious skills of discernment, we have every chance to use our tools wisely to achieve extraordinary productivity.
RULE YOUR TECHNOLOGY

Beep! Ring! Buzz! Ding! Our attention is under unprecedented attack. The average office worker gets only three minutes of work time before being interrupted. Harness your technology in a way that accelerates rather than hinders your ability to achieve extraordinary results.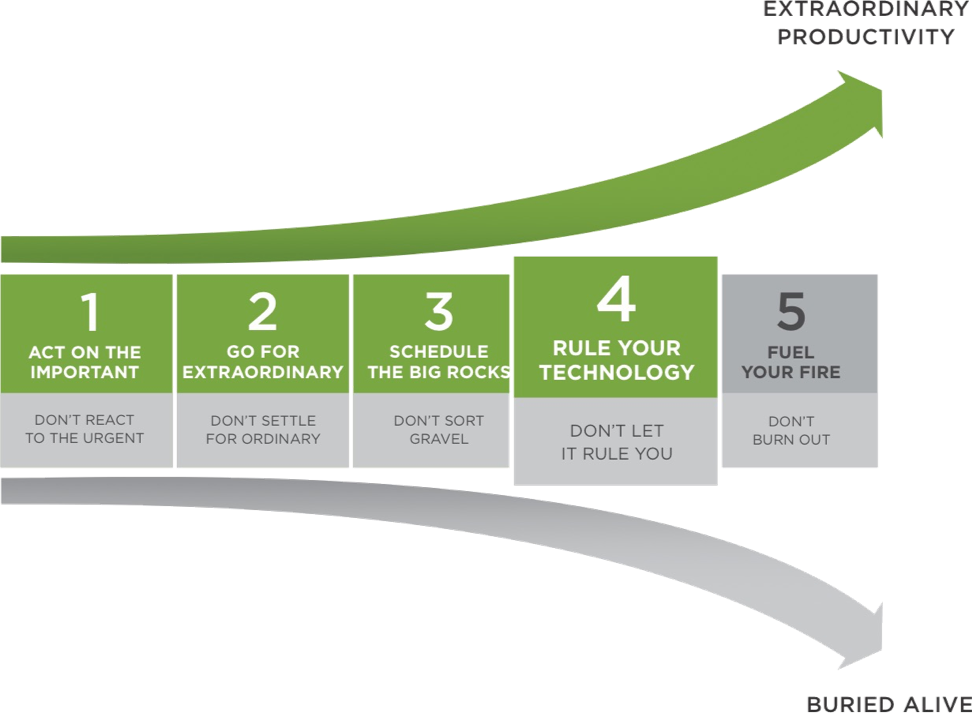 Solutions That Focus Ruling Your Technology