Change:
How to Turn Uncertainty Into Opportunity™
Overview
Change happens all the time.
Yet, when faced with change, many organizations primarily focus on the process. Successful change takes more than that—it's your people who make change happen.
And as people, we're wired to react to change to survive, which can make change feel difficult or threatening. Successful leaders engage their people in change, making it feel less uncertain and more like an opportunity.
The good news is that while every change is unique, there's a predictable pattern to change. Understanding this pattern and building the skills to navigate it successfully allows us to consciously determine how to best move forward – even in the most challenging stages.
Outcomes
Change: How to Turn Uncertainty Into Opportunity helps individuals and leaders learn how to successfully navigate any workplace change to improve results.
Change: How to Turn Uncertainty Into Opportunity is available in the FranklinCovey All Access Pass®. Passholders have instant access to all three of the course modules, ensuring that all employees — no matter their role — have the resources they need when they need them.
Need a Pass?
The FranklinCovey All Access Pass allows you to expand your reach, achieve your business objectives, and sustainably impact performance. It provides access to a vast library of FranklinCovey content, including assessments, training courses, tools, and resources available Live In-Person, Live-Online, and On Demand. Contact us to purchase a pass for your organization.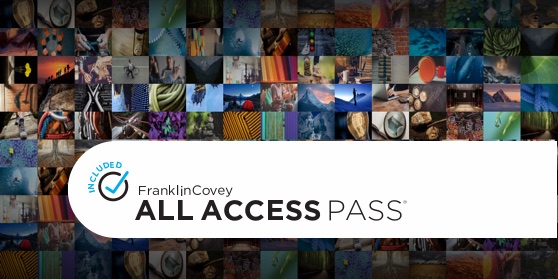 Download a Guide
Help your leaders identify their current approach to change and adopt a productive mindset that enables them to thrive in new circumstances. Bonus: They can use this guide to coach their team, too!
Attend an Event
This overview webcast is designed to help decision-makers understand FranklinCovey's approach to guiding teams and organizations through change to see new and greater opportunities.
Be a Better Leader:
Lead Through Change
This season of the Be a Better Leader series focuses on Change. The goal this season is not simply to help you manage change, but to embrace change and turn uncertainty into opportunity.