Habit 3: Put First Things First®
Execution
"Effective leadership is putting first things first. Effective management is discipline, carrying it out."


Habit 3: Put First Things First®
Execute on most important priorities.
To live a more balanced existence, you have to recognize that not doing everything that comes along is okay. There's no need to overextend yourself. All it takes is realizing that it's all right to say no when necessary and then focus on your highest priorities.

New 7 Habits Webcast Series
THE 7 HABITS COACH:
HOW TO DEAL WITH CHANGE AND UNCERTAINTY
The 7 Habits of Highly Effective People® will help you navigate very real problems in challenging times. This series will be delivered to your inbox each day for the next ten business days. You can stop at any time; however, these are valuable resources to help you, your family, your colleagues, and your friends thrive during uncertain times.
"Putting first things first means organizing and executing around your most important priorities. It is living and being driven by the principles you value most, not by the agendas and forces surrounding you."


Dr. Stephen

R. Covey
Habit 1 says, "You're in charge. You're the creator." Being proactive is about choice. Habit 2 is the first, or mental, creation. Beginning with the End in Mind is about vision. Habit 3 is the second creation, the physical creation. This habit is where Habits 1 and 2 come together. It happens day in and day out, moment-by-moment. It deals with many of the questions addressed in the field of time management. But that's not all it's about. Habit 3 is about life management as well–your purpose, values, roles, and priorities. What are "first things?" First things are those things you, personally, find of most worth. If you put first things first, you are organizing and managing time and events according to the personal priorities you established in Habit 2.

The 7 Habits® 30TH ANNIVERSARY
THE 7 HABITS OF HIGHLY EFFECTIVE PEOPLE
30TH ANNIVERSARY EDITION
This special 30th Anniversary Edition commemorates the timeless wisdom of the 7 Habits® for a new generation with the book's original content along with personal insights at the end of each chapter by Stephen Covey's son Sean Covey.
PLAN EVERY WEEK
1. Connect with mission, roles, and goals.
2. Schedule the Big Rocks.
3. Organize the rest.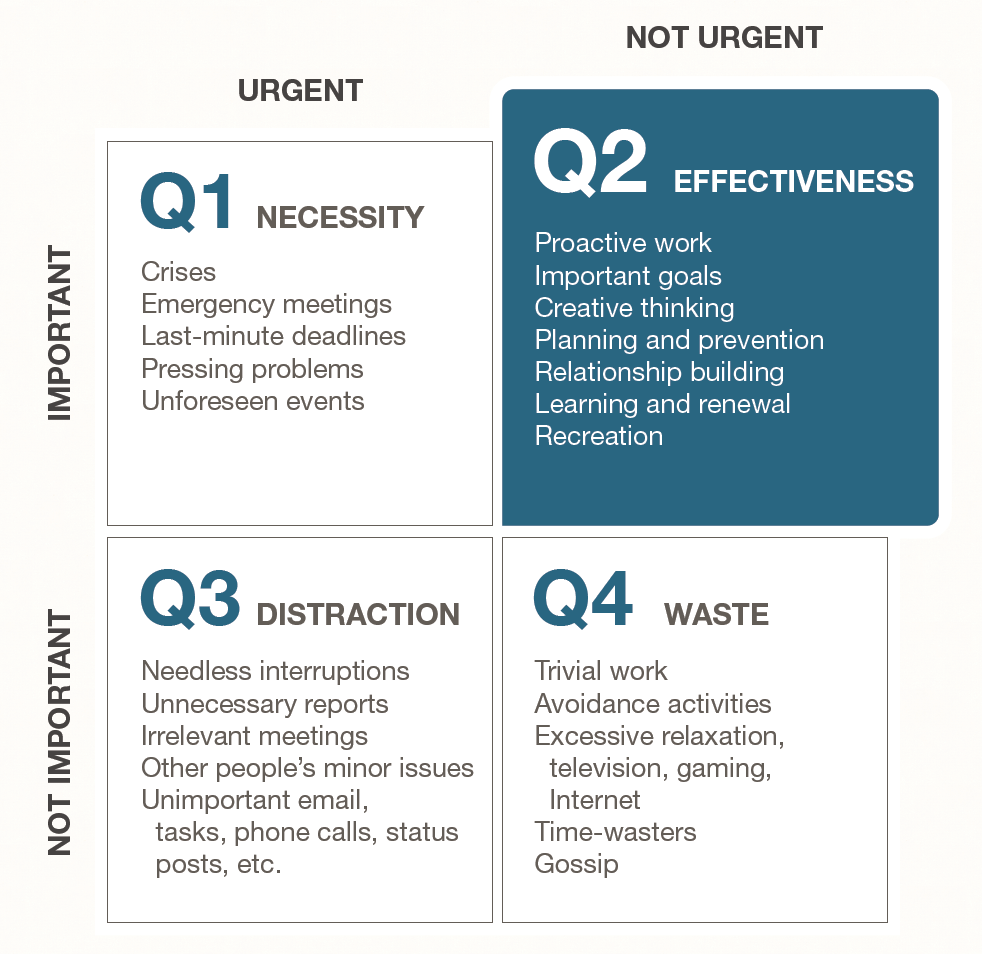 Make The Mental Leap to Leader
A SIX-STEP GUIDE FOR FIRST-LEVEL LEADERS
This free and impactful guide will walk your first-level leaders through proven solutions to some of the most common issues leaders face. Share it with your first-level leaders to help them build their confidence and skills, and to drive your organizational results.

Solutions That Focus on Putting First Things First
The 7 Habits of Highly Effective People
Sets the foundation for professional effectiveness – increasing productivity, restoring balance, and developing greater maturity and responsibility.
The 7 Habits Leader Implementation
Designed to help leaders create a high-performance team. Leaders will learn a proven three-step implementation process, receive a set of practical tools to help them coach their team to effectiveness.