Discipline 1: Focus on the Wildly Important.®

Execution
"Focusing on the wildly important requires you to go against your basic wiring as a leader to do more, and instead, focus on less so that your team can achieve more."

Discipline 1: Focus on The Wildly Important
Our research has shown that only 15 percent of employees actually know their organization's most important goals—either there are no goals or they have too many goals.
Focus on less in order to accomplish more. Start by selecting 1 wildly important goal, or WIG, instead of trying to work on a dozen goals all at once. We are not suggesting you ignore the work necessary to maintain your daily operation. We are suggesting you narrow your focus to work on what you want to significantly improve.

"There will always be more good ideas than there is capacity to execute."

Chris

McChesney, Co-Author of The 4 Disciplines of Execution
Most intelligent, ambitious people, don't want to do less. Especially if it means saying no to good ideas. They are wired to do more, but there are always more good ideas than there is capacity to execute.
When you choose a wildly important goal, you identify the most important objective that won't be achieved unless it gets special attention. In other words, your normal course of business won't make it happen.
The Wildly Important (WIG)
Practicing Discipline 1 means narrowing your focus to a few highly important goals so you can manageably achieve them in the midst of the whirlwind of the day job.
Your chances of achieving 2 or 3 goals with excellence are high, but the more goals you try to juggle at once, the less likely you will be to reach them.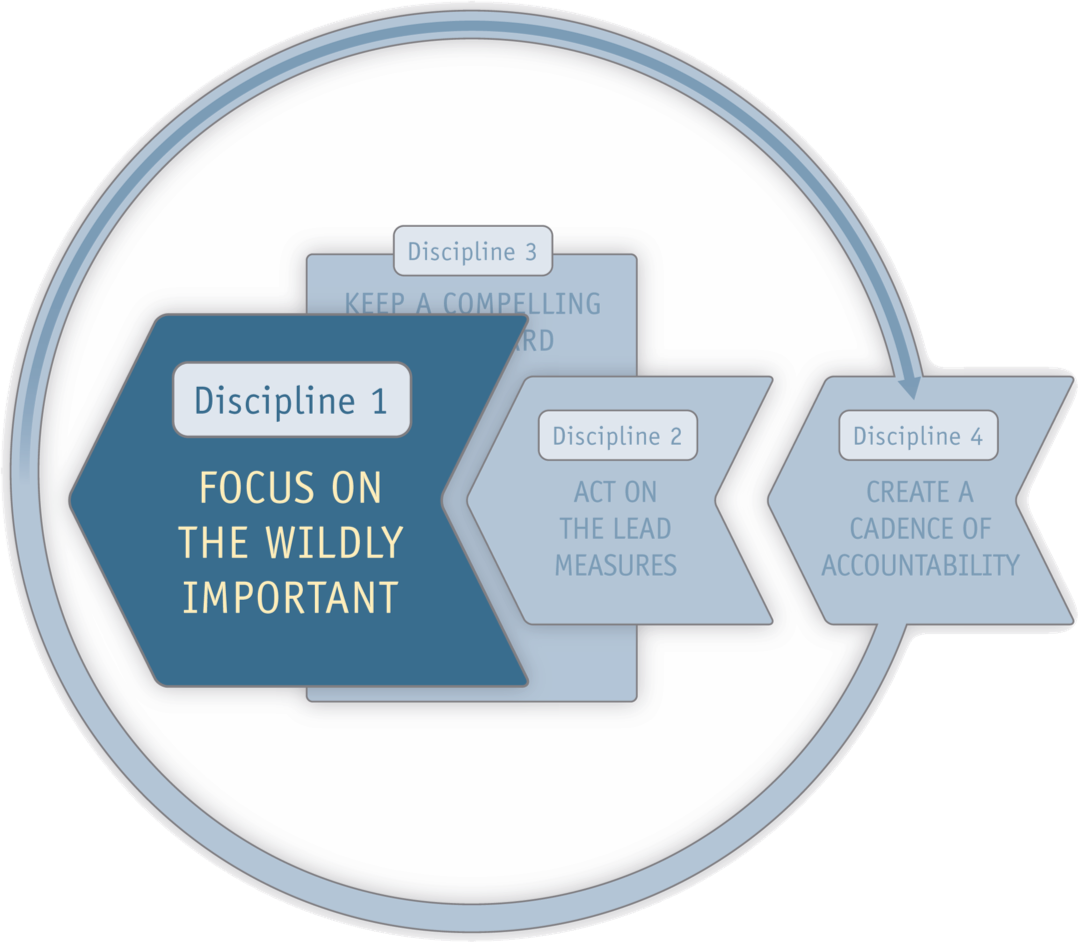 To define a WIG, identify where you are now, where you want to be and by when. Said differently, you define a starting line, a finish line and a deadline. Psychologically it is very important to have a single measure of success. This is the discipline of focus and it's the first step in creating a winnable game.

Solutions That Focus on The 4 Disciplines
The 4 Disciplines of Execution®
This organization-wide transformation process teaches and sustains the behaviors necessary to execute the most important goals. It ensures that managers and employees identify and execute their highest priorities through focusing on the Wildly Important Goals, translating top goals into specific actions, creating a compelling scoreboard, and holding each other accountable.
The 4 Disciplines of Execution – Book
The 4 Disciplines of Execution is a simple, repeatable, and proven formula for executing on your most important strategic priorities in the midst of "the whirlwind." The 4 Disciplines of Execution is not theory. It is a proven set of practices that have been tested and refined by hundreds of organizations and thousands of teams over many years. The 4 Disciplines of Execution represents a new way of thinking and working that is essential to thriving in today's competitive climate.