Here's A Framework For Building A Championship Sales Mentality
At some point, every chief sales officer trying to implement a culture-change initiative wonders: "How do I get my leaders to embrace this in the midst of hitting their numbers?"
And ideally, their leaders will go beyond buy-in to active championship — promoting the initiative with their teams and modeling the new behaviors themselves.
Influenced by the work of John Kotter at Harvard Business School, the following framework helps move sales leaders from passive engagement to active championship:
Create urgency: Guide the sales leaders from wanting change to needing change. Clarify the goal or mission, then examine what needs to change in the organization, with leaders, and with individual contributors. Leverage a "from/to" framework for this discussion: Challenge the leaders to think deeply about what needs to change ("from") and what the ideal state would be ("to") within the organization, themselves, and the sales people.
Create a vision for change: Make sure you've defined a clear vision that's simple, aspirational yet achievable, easy to understand, and motivational. For example, "We want to be the sales gold standard of our industry. A destination employer. A trusted advisor. A growth leader."
Communicate the vision: Don't just set a vision, then never talk about it again—discuss it often. Reward actions and behaviors that align with the vision. When you inevitably encounter undesired behaviors, use them as opportunities to re-align to and reinforce the vision.
Form a powerful coalition: Meaningful change requires the engagement of the right influencers in the organization—and that doesn't necessarily mean the people with fancy titles. When influencers speak, others stop and listen. When decisions are being considered, influencers are consulted. When new ideas are forming, influencers are involved. Find these people and form a coalition.
Remove obstacles: Often when facing a new goal or mission, leaders focus on the enablers of change. This is a good approach, but don't forget to constrain forces that might get in the way. Constraining forces may include naysayers, current business practices and beliefs, or other business issues that divert resources.
The Most Trusted Leadership Company
Learn how your organization can use our people, content, and technology to create collective action and meaningful change.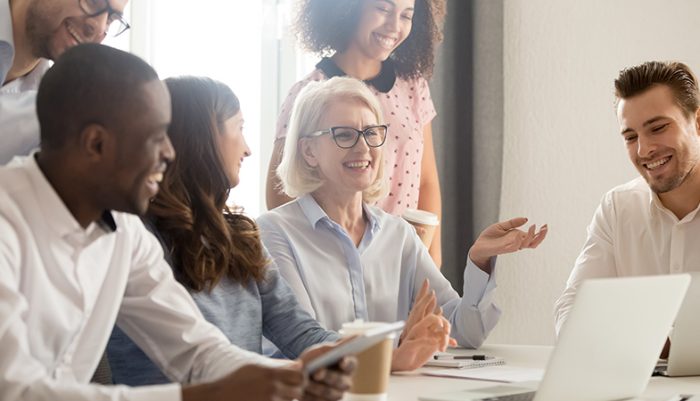 Create short-term wins: Sales training and development initiatives often come with an expectation that you will reap the rewards in the distant future, which, for a sales organization, is the next quarter or possibly next year. Set different expectations—expect to see change immediately, in the quarter, for the quarter. Gain momentum by sharing early wins.
Anchor the changes in the culture: Culture is the collective actions and behaviors of a group of people. It isn't enough to simply sustain the sales culture; it must be deeply anchored in the organization. This requires thoughtful planning and skillful execution in regards to the engagement and expectations of people, the business processes and practices, and the use of technology. Your people should always demonstrate the internal and customer behaviors that define your culture. Review your business processes and practices. Are they in alignment with what your culture stands for? If your culture is customer centric, are your processes and practices the same? Is your use of technology enabling what you value or is it an obstacle?
Not every organization has the will or skill to rise to this level of engagement around a new initiative. Even so, tackling just one or two of these practices can have significant impact on guiding sales leaders and their teams to higher levels of performance.
Challenge for leaders: Are you about to launch a major initiative with your sales organization? If yes, use these eight criteria to assess your likelihood of success.