I need to develop my communication skills to have better interactions at work.
People are hired because of their skills, experience, expertise, and track record of success. But if their communication skills are lacking, it'll be tough to move up in the organization—or even keep their job over time.
Effective communication in the workplace is the key to a successful and rewarding career.
Improving communication skills begins by clarifying the definition. It's easy to think, "I need to learn how to be clear in what I have to say and express it in a way that people understand what I'm saying." But that perspective is like listening to the radio (one-way communication): one person is talking, and everyone else is listening.
Workplace communication is more like a phone conversation (two-way communication). When done well, both people get to talk and be heard. This builds trust in relationships, which is critical for a healthy career.
Want to see quick results in your relationships? Try some of these simple focal points:
Listen for understanding
As a leader, you need to express your ideas powerfully and precisely. But those skills alone rarely build connections with others; listening does.
When you listen closely with the intent to understand deeply, you've moved from a monologue to a conversation. You're just as interested in the other person, their ideas, and their challenges as you are in making your points. When they feel heard and understood, you gain their trust and respect.
The best part? If you spend half your time listening, conversations are easier and more energizing. You don't have to be the one running it because the other person adds new ideas to discuss.
Ask questions
We want to be helpful, so we try to solve problems quickly. Don't. Let them finish, then ask questions so they can craft new ideas on their own and find solutions. They'll feel better about themselves and you because you helped them feel more competent.
Ask a question, then follow it up with, "Tell me more." Listen to their response, then ask another clarifying question to dig deeper. Try asking three questions before making a statement.
The Most Trusted Leadership Company
Learn how your organization can use our people, content, and technology to create collective action and meaningful change.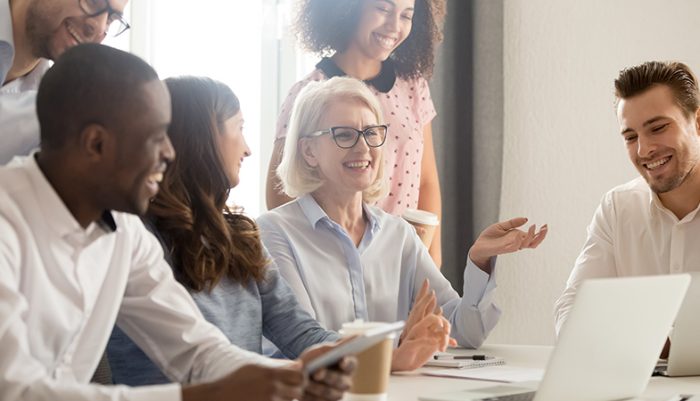 Remove distractions
In every conversation, give the other person 100% of your attention. Be obvious about turning your phone over or moving it away. Make intentional eye contact—the "emotional handshake" of relationships. If someone tries to interrupt, hold your hand up to signal, "Not yet…let me finish this conversation." If needed, take a walk together, so you're not distracted.
Stay curious
The quickest way to build a genuine connection with someone is to enter every conversation wanting to learn something new. You already know what you have to say; explore what they have to say—what they feel, think, and experience. Get to know them beyond their job role, and they'll see you as someone who cares. It can't be a gimmick; your caring needs to be real. When it is, you've laid the groundwork for effective communication.
Want to develop your communication skills? Start implementing one of these suggestions in each conversation you have today. The simplest steps can open the door to confident communication in the workplace!