TALENT UNLEASHED
3 Leadership Conversations to ignite the unlimited potential in people
About The Book
Unleashing that unlimited store of potential in people
A leader's job is to unleash the unlimited store of potential in people.

"The vast majority of the workforce in any organization possesses far more talent, intelligence, capability, and creativity than their present jobs require or even allow." – Dr. Stephen R. Covey

That's what Talent Unleashed is about—unleashing that unlimited store of potential in people. That's a leader's job.

And how does a leader do that job? Through 3 Leadership Conversations—not just individual events, but ongoing discussions designed to help people give the best they can. In these conversations, leaders trade fear for trust, confusion for clarity, and micromanaging for empowerment.

Praise For The Book
"The 'talent conversations' in this book are highly practical tools for leaders who want to uncover untapped potential in their people – and develop it."
~ Marshall Goldsmith, New York Times bestselling author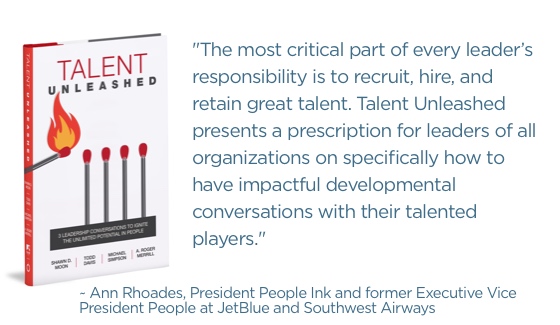 About the Authors
Learn more about the co-authors
The 3 Leadership Conversations
Leadership conversations that can help define your team and your skills.