LeaderU
Partner with FranklinCovey to empower your students and enhance your institution through LeaderU.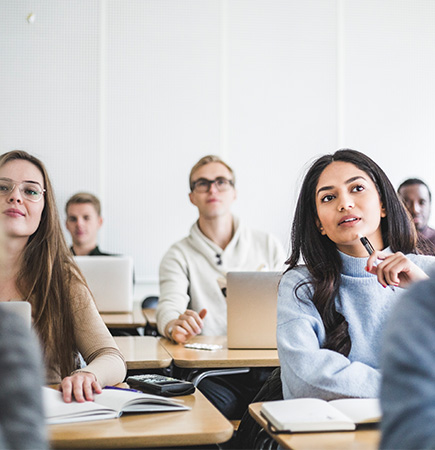 Teach essential career skills to students.
LeaderU course resources help you teach college students career readiness competencies and soft skills that are most valued today by employers.
LeaderU courses are ready to go with award-winning videos, articles, quizzes, assignments, exams, and more. Course content is used by Fortune 500 companies and is based on bestselling books, extensive research, and hundreds of thousands of client engagements.
LeaderU helps you address and develop essential career skills:
✓ Career/Self-Development
✓ Communication
✓ Critical Thinking
✓ Interpersonal Dynamics
✓ Building Relationships
✓ Building Trust
✓ Time Management
✓ Project Management
✓ Speaking and Writing
✓ Effective Listening
✓ Customer Service
✓ Change Management
✓ Difficult Conversations
✓ Effective Study Skills
✓ Managing Performance
✓ Building Culture
✓ Strategic Thinking
✓ Decision Making
✓ Equity and Inclusion
✓ Leadership
✓ Professionalism
✓ Cultural Awareness
✓ Unconscious Bias
✓ Innovation
✓ Leadership Mindset
✓ Emotional Intelligence
✓ Collaboration
✓ Goal Achievement
✓ Networking
✓ Interview Skills
✓ Handling Feedback
✓ Execution
✓ Problem Solving
✓ Influencing Others
✓ Integrity
✓ Initiative
✓ Teamwork
✓ Technology
✓ Coaching Skills
✓ Conflict Management
✓ Advanced Selling
✓ Strategic Vision
✓ Talent Management
✓ Motivation
✓ Work Ethic
✓ Accountability
✓ Work/Life Balance
✓ Dealing With Change
✓ Presenting
✓ Health/Wellness
✓ Managing Finances
✓ Time Management
Free Webcast
Attend a Live-Online or On Demand LeaderU Webcast
Free Brochure
Download the LeaderU Brochure (PDF)
Free Guide
How Teaching Essential Workplace Skills Can Help Students Thrive
Resources
Explore LeaderU Blog Articles, Videos, and More
Award valuable certificates.
LeaderU awards digital badges and print-ready certificates endorsed by FranklinCovey. With verifiable evidence of career skills, you can help students stand out in the job market.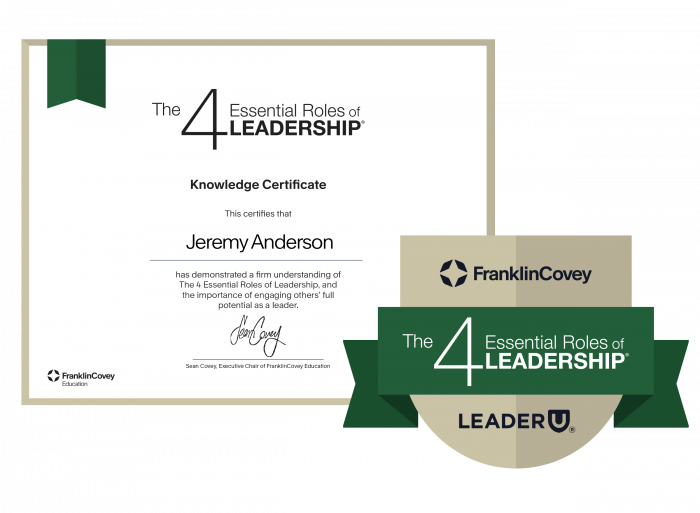 LeaderU is simple to implement.
Whether you are supplementing an existing course, developing a career skills seminar track, offering student leadership development programs, or adding new courses to your curriculum, LeaderU is simple to implement with a digital platform designed to meet the needs of students and instructors. You will have access to:
– Course Videos
– Insights Modules
– Instructor-Led Lessons
– Excellerator Modules
– Digital Practice Cards
– Quizzes
– Articles
– Course Slides
– Study Guides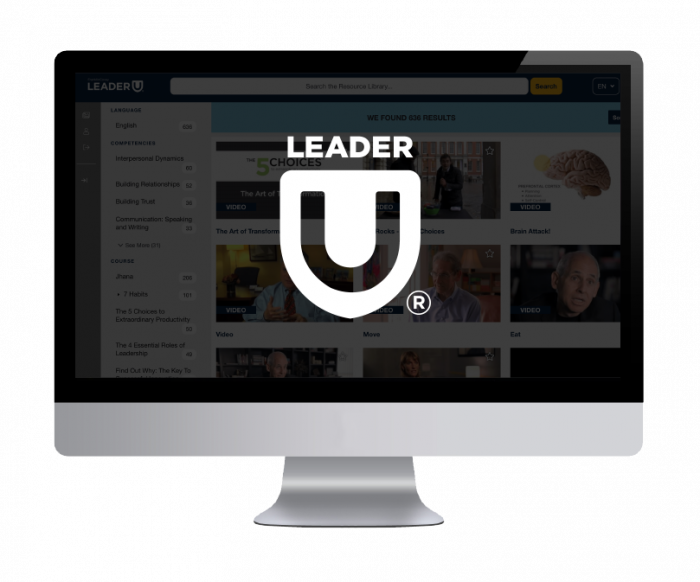 Additional Featured Course Resources:
Engage with us. Request a demo.
Complete the form to connect with a FranklinCovey representative who can answer your questions about our higher education solutions.