A research-backed framework for schools and districts to accomplish their most important goals.
Leaders learn to narrow their focus, create clarity and alignment around key behaviors, track progress, and mobilize people to achieve success.
4DX breaks down the conflict between day-to-day operational tasks and long-term strategic initiatives.
The 4 Disciplines form a tested, sequential process that helps schools and districts achieve their most important initiatives.
Define your most important initiative

Discipline 1: Focus on the Wildly Important Goals

Narrow your focus on one or two goals that close a critical gap. These are the

Wildly Important Goals

(

WIGS

). 

Set clear objectives with a deadline.

Build commitment with thoughtful narrative that communicates the goal and its importance.

Result: Everyone knows and is committed to the goal — and how they contribute to its success.

Outline specific actions

Discipline 2: Act on the lead measures

Determine one or two goal-related targets and set deadlines for each.

Communicate with all stakeholders on how they contribute to the goal, and why it matters.

Result: Everyone knows exactly what they need to do to accomplish the goals.

Visually track if strategies and actions are successful

Discipline 3: Keep a compelling scoreboard

Turn each goal and target into a winnable game with a clear and visible scoreboard.

Instantly see how teams are progressing in each strategic initiative.

Learn from what works and what doesn't, continually improving.

Result: Everyone can effectively track their progress.

Make frequent commitments

Discipline 4: Create a cadence of accountability

Huddle weekly with your team to share the scoreboard.

Make time for individuals and teams to report on how things are going, as well as make new commitments to stay on track. 

Give support and  adjust strategy when needed, while celebrating wins along the way. 

Result: Everyone applies their best effort toward the activities that matter most. The team feels supported and valued for their efforts.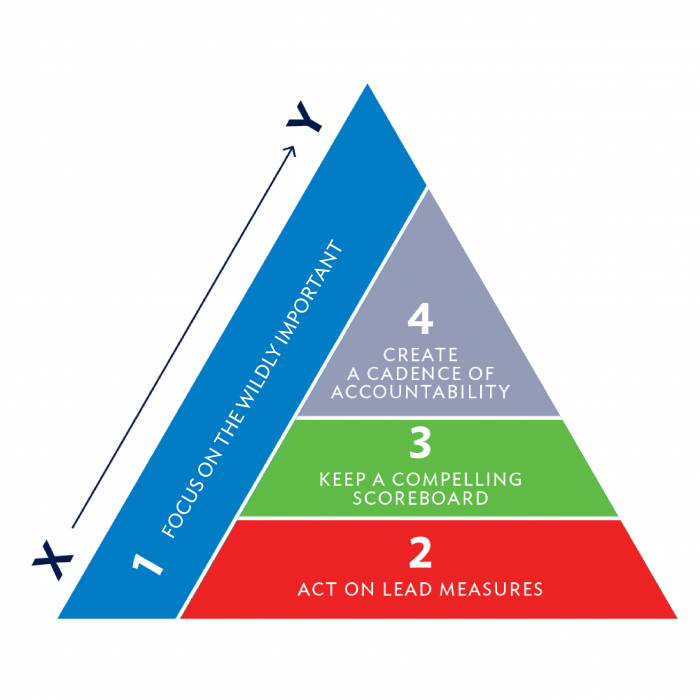 The 4 Disciplines in Action
Turn sporadic performance into a system of reliable results. Learn to utilize a proven goal execution system that drives measurable outcomes in areas such as:
Closing achievement gaps, or accelerating academic learning.

Increasing teacher retention and improving work-life balance.

Cultivating family engagement.

Improving student behavior.

Creating a high-trust and safe school environment.
Engage With Us
Complete the form to connect with a FranklinCovey representative who can answer your questions and discuss your educational needs.