Habit 5: Seek First to Understand, Then to Be Understood®
Leadership
"Most people do not listen with the intent to understand; they listen with the intent to reply."


Video: It's Not About the Nail
Habit 5: Seek First to Understand, Then to Be Understood®
Communicate effectively at all levels of the organization.
Communication is the most important skill in life. You spend years learning how to read and write, and years learning how to speak. But what about listening? What training have you had that enables you to listen so you really, deeply understand another human being? Probably none, right?

New 7 Habits Webcast Series
THE 7 HABITS COACH:
HOW TO DEAL WITH CHANGE AND UNCERTAINTY
The 7 Habits of Highly Effective People® will help you navigate very real problems in challenging times. This series will be delivered to your inbox each day for the next ten business days. You can stop at any time; however, these are valuable resources to help you, your family, your colleagues, and your friends thrive during uncertain times.
"If I were to summarize in one sentence the single most important principle I have learned in the field of interpersonal relations, it would be this: Seek first to understand, then to be understood."

Dr. Stephen

R. Covey
If you're like most people, you probably seek first to be understood; you want to get your point across. And in doing so, you may ignore the other person completely, pretend that you're listening, selectively hear only certain parts of the conversation or attentively focus on only the words being said, but miss the meaning entirely. So why does this happen? Because most people listen with the intent to reply, not to understand. You listen to yourself as you prepare in your mind what you are going to say, the questions you are going to ask, etc. You filter everything you hear through your life experiences, your frame of reference. You check what you hear against your autobiography and see how it measures up. And consequently, you decide prematurely what the other person means before he/she finishes communicating. Do any of the following sound familiar?

The 7 Habits® 30TH ANNIVERSARY
THE 7 HABITS OF HIGHLY EFFECTIVE PEOPLE
30TH ANNIVERSARY EDITION
This special 30th Anniversary Edition commemorates the timeless wisdom of the 7 Habits® for a new generation with the book's original content along with personal insights at the end of each chapter by Stephen Covey's son Sean Covey.
Seek First to Understand
Because you so often listen autobiographically, you tend to respond in one of four ways:
| | |
| --- | --- |
| Evaluating: | You judge and then either agree or disagree. |
| Probing: | You ask questions from your own frame of reference. |
| Advising: | You give counsel, advice, and solutions to problems. |
| Interpreting: | You analyze others' motives and behaviors based on your own experiences. |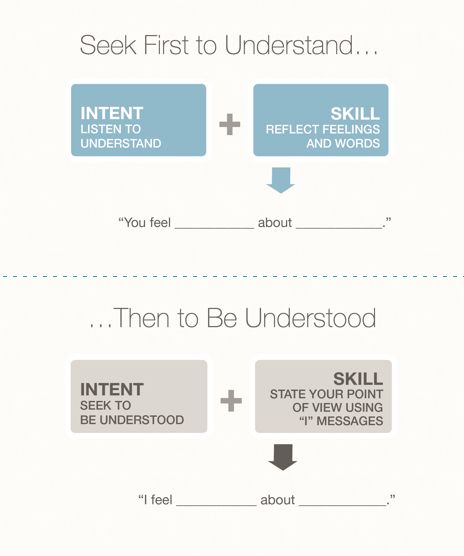 You might be saying, "Hey, now wait a minute. I'm just trying to relate to the person by drawing on my own experiences. Is that so bad?" In some situations, autobiographical responses may be appropriate, such as when another person specifically asks for help from your point of view or when there is already a very high level of trust in the relationship.

Make The Mental Leap to Leader
A SIX-STEP GUIDE FOR FIRST-LEVEL LEADERS
This free and impactful guide will walk your first-level leaders through proven solutions to some of the most common issues leaders face. Share it with your first-level leaders to help them build their confidence and skills, and to drive your organizational results.

Solutions That Focus on Seeking to Understand First
The 7 Habits of Highly Effective People
Sets the foundation for professional effectiveness – increasing productivity, restoring balance, and developing greater maturity and responsibility.
Leading at The Speed of Trust
Helps your leaders identify and close trust gaps that exist in your organization. As a result of attending this work session, participants will be able to better manage change and lead high performing teams that are agile, collaborative, innovative, and engaged.