Habit 7: Sharpen the Saw®
Productivity
"We must never become too busy sawing to take time to sharpen the saw."


Video: Daily Private Victory
Habit 7: Sharpen the Saw®
Seek continuous improvement and renewal professionally and personally.
Sharpen the Saw means preserving and enhancing the greatest asset you have–you. It means having a balanced program for self-renewal in the four areas of your life: physical, social/emotional, mental, and spiritual. Here are some examples of activities:
| | |
| --- | --- |
| Physical: | Beneficial eating, exercising, and resting |
| Social/Emotional: | Making social and meaningful connections with others |
| Mental: | Learning, reading, writing, and teaching |
| Spiritual: | Spending time in nature, expanding spiritual self through meditation, music, art, or service |
New 7 Habits Webcast Series
THE 7 HABITS COACH:
HOW TO DEAL WITH CHANGE AND UNCERTAINTY
The 7 Habits of Highly Effective People® will help you navigate very real problems in challenging times. This series will be delivered to your inbox each day for the next ten business days. You can stop at any time; however, these are valuable resources to help you, your family, your colleagues, and your friends thrive during uncertain times.
"Renewal is the principle—and the process—that empowers us to move on an upward spiral of growth and change, of continuous improvement. "


Dr. Stephen

R. Covey
As you renew yourself in each of the four areas, you create growth and change in your life. Sharpen the Saw keeps you fresh so you can continue to practice the other six habits. You increase your capacity to produce and handle the challenges around you. Without this renewal, the body becomes weak, the mind mechanical, the emotions raw, the spirit insensitive, and the person selfish. Not a pretty picture, is it?

The 7 Habits® 30TH ANNIVERSARY
THE 7 HABITS OF HIGHLY EFFECTIVE PEOPLE
30TH ANNIVERSARY EDITION
This special 30th Anniversary Edition commemorates the timeless wisdom of the 7 Habits® for a new generation with the book's original content along with personal insights at the end of each chapter by Stephen Covey's son Sean Covey.
Feeling good doesn't just happen.
Living a life in balance means taking the necessary time to renew yourself. It's all up to you. You can renew yourself through relaxation. Or you can totally burn yourself out by overdoing everything.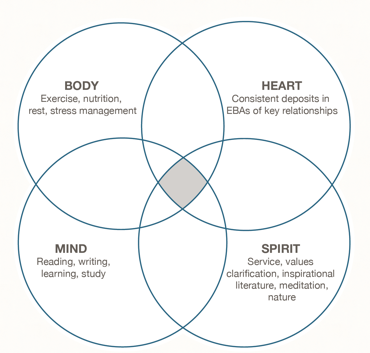 You can pamper yourself mentally and spiritually. Or you can go through life oblivious to your well-being. You can experience vibrant energy. Or you can procrastinate and miss out on the benefits of good health and exercise. You can revitalize yourself and face a new day in peace and harmony. Or you can wake up in the morning full of apathy because your get-up-and-go has got-up-and-gone. Just remember that every day provides a new opportunity for renewal–a new opportunity to recharge yourself instead of hitting the wall. All it takes is the desire, knowledge, and skill.

Make The Mental Leap to Leader
A SIX-STEP GUIDE FOR FIRST-LEVEL LEADERS
This free and impactful guide will walk your first-level leaders through proven solutions to some of the most common issues leaders face. Share it with your first-level leaders to help them build their confidence and skills, and to drive your organizational results.

Solutions That Focus on Sharpening the Saw
The 7 Habits of Highly Effective People
Sets the foundation for professional effectiveness – increasing productivity, restoring balance, and developing greater maturity and responsibility.
The 7 Habits Leader Implementation
Designed to help leaders create a high-performance team. Leaders will learn a proven three-step implementation process, receive a set of practical tools to help them coach their team to effectiveness.