Leadership
"Synergy is better than my way or your way. It's our way."



Habit 6: Synergize®
Innovate and problem solve with those who have a different point of view.
To put it simply, synergy means "two heads are better than one." Synergize is the habit of creative cooperation. It is teamwork, open-mindedness, and the adventure of finding new solutions to old problems. But it doesn't just happen on its own. It's a process, and through that process, people bring all their personal experience and expertise to the table. Together, they can produce far better results that they could individually. Synergy lets us discover jointly things we are much less likely to discover by ourselves. It is the idea that the whole is greater than the sum of the parts. One plus one equals three, or six, or sixty–you name it.

New 7 Habits Webcast Series
THE 7 HABITS COACH:
HOW TO DEAL WITH CHANGE AND UNCERTAINTY
The 7 Habits of Highly Effective People® will help you navigate very real problems in challenging times. This series will be delivered to your inbox each day for the next ten business days. You can stop at any time; however, these are valuable resources to help you, your family, your colleagues, and your friends thrive during uncertain times.
"Synergy is not the same as compromise. In a compromise, one plus one equals one and a half at best."


Dr. Stephen

R. Covey

When people begin to interact together genuinely, and they're open to each other's influence, they begin to gain new insight. The capability of inventing new approaches is increased exponentially because of differences.

The 7 Habits® 30TH ANNIVERSARY
THE 7 HABITS OF HIGHLY EFFECTIVE PEOPLE
30TH ANNIVERSARY EDITION
This special 30th Anniversary Edition commemorates the timeless wisdom of the 7 Habits® for a new generation with the book's original content along with personal insights at the end of each chapter by Stephen Covey's son Sean Covey.
You know you're in synergy when you:
Feel new energy and excitement.
Feel that the relationship has transformed.
End up with an idea or a result that is better than what either of you started with (3rd Alternative).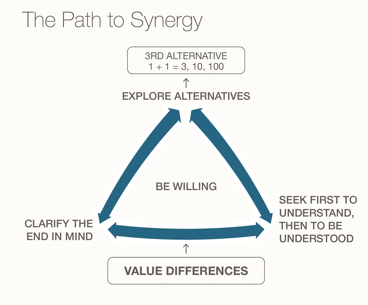 Valuing differences is what really drives synergy. Do you truly value the mental, emotional, and psychological differences among people? Or do you wish everyone would just agree with you so you could all get along? Many people mistake uniformity for unity; sameness for oneness. One word–boring! Differences should be seen as strengths, not weaknesses. They add zest to life.

Make The Mental Leap to Leader
A SIX-STEP GUIDE FOR FIRST-LEVEL LEADERS
This free and impactful guide will walk your first-level leaders through proven solutions to some of the most common issues leaders face. Share it with your first-level leaders to help them build their confidence and skills, and to drive your organizational results.

Solutions That Focus on Synergy
The 7 Habits of Highly Effective People
Sets the foundation for professional effectiveness – increasing productivity, restoring balance, and developing greater maturity and responsibility.
Leading at The Speed of Trust
Helps your leaders identify and close trust gaps that exist in your organization. As a result of attending this work session, participants will be able to better manage change and lead high performing teams that are agile, collaborative, innovative, and engaged.