Choice 2: Go For Extraordinary; Don't Settle for Ordinary

Productivity
"Ordinary happens. Extraordinary is a choice."

Choice 2: Go for extraordinary; Don't settle for ordinary
How to guide your decision making?
When we use the word extraordinary, we do not mean an unattainable, or perfectionist standard. We are simply talking about the things that you deeply feel will create the most value in your life right now. In our experience, many people do not take the time to clarify what is most important to them, and as a result, they do not end up spending their time on those things.
"Roles are where life happens. It's where we build relationships, where all the activities that make us human go on."


Kory

Kogon, Co-Author of The 5 Choices to Extraordinary Productivity
Choice 2 focuses on clarifying the criteria for the decisions we make every day on how to spend our time, attention, and energy. We have found that the best way to identify the criteria for our decisions is by examining the roles we play in our lives and what success looks like in each role. In doing so, we give our brains the targets they need to make the right decisions for the right outcomes.
Don't Settle for Ordinary
Everyone has the potential to make a difference, to be extraordinary. Clearly define the extraordinary outcomes you want to achieve in your most important personal and professional roles.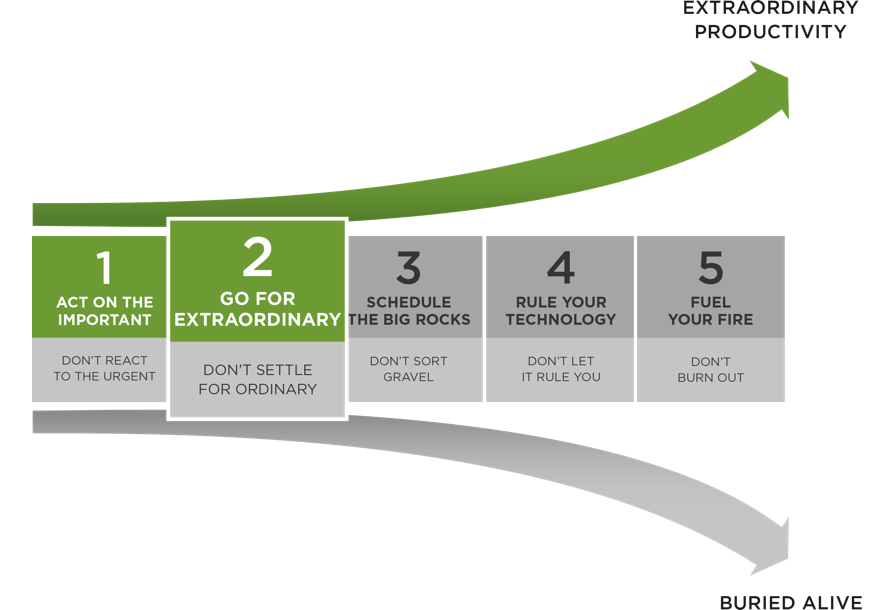 The result of Choice 2 and identifying the most important roles we play in our lives right now gives a framework for balance, motivation, and fulfillment. By clarifying the why in 'why we do things', we are able to make the best decisions how we do things. Choice 2 connects our motivations and our deepest purposes to our decision making process, which is a key element of extraordinary productivity.
Solutions That Focus on Going for extraordinary