Choice 1 : Act on the Important; Don't React to the Urgent

Productivity
"It is both easier and harder than ever before to achieve extraordinary productivity and feel accomplished in our lives. This is the productivity paradox."

Choice 1: Act on the important, don't react to the urgent
How to discern the important from the less and not important.
In a world where we are paid to think, create, and innovate, the primary tool for creating value is our brain. It is easy think that we have only one brain, but in reality, we have two. There is the Reactive Brain and the Thinking Brain. The Reactive Brain is the source of the fight-or-flight response and is also where we process our feelings and emotions. The Reactive Brain processes things automatically, before we have time to think about what is going on.
"Anything less than a conscious commitment to the important is an unconscious commitment to the unimportant."


Dr. Stephen

Covey
In contrast, the Thinking Brain is the place where we make conscious and intentional decisions. It is often called the executive function, because it is where we can consciously direct and override other impulses from the Reactive Brain. Choice 1 is all about using our Thinking Brains to act rather than react and to choose to pay attention to things in deliberate and thoughtful ways.
Act On THE IMPORTANT

Is your day bursting at the seams with everything you feel must be done? Do you have a methodology for discerning the important from the less and not important things?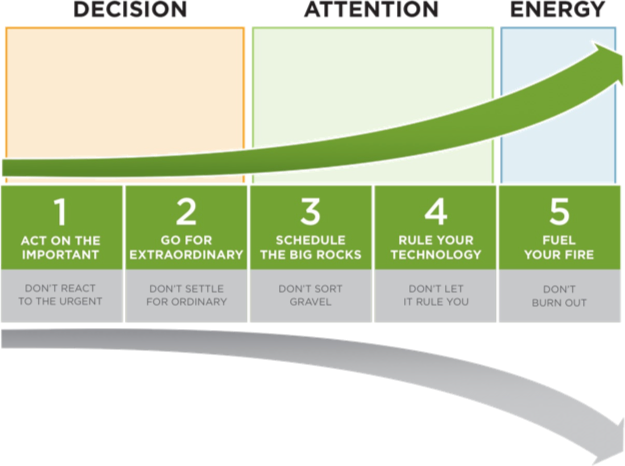 Choice 1 equips individuals with the ability to discern what is important from the flood of less important urgencies that compete for attention daily. By choosing to act on the important and to not react to the urgent, individuals increase their ROM (Return on the Moment), which is a key element in becoming extraordinarily productive.
Solutions That Focus on Acting on the important