Choice 3: Schedule the big rocks, don't sort the gravel
Productivity
"That which holds the attention, determines the action."

Choice 3: Schedule the big rocks, don't sort the gravel
Tips and Tools to plan weekly and daily to execute with excellence on the most important things.
There is a big difference between thinking about what is important and actually accomplishing it. If we don't have robust planning disciplines and processes in place to execute on what is important, than our roles and goals are merely wishful thinking. Choices 1 and 2 are about making good decisions about where to spend our attention and energy. Choices 3 and 4 are about how we keep our attention focused and intentional to ensure we feel accomplished at the end of every day.
"In today's environment, the key to true productivity is not to get more things done, but to get the right things done."


Adam

Merrill, Co-Author or The 5 Choices to Extraordinary Productivity
The 'big rocks' in Choice 3 represent the important priorities that our roles play in our lives – time spent on key relationships and responsibilities, important projects, critical meetings, and so forth. These activities are in contrast to gravel, which represents all the little things that fill up our lives – email, calls, laundry, less important priorities, and so on.
Schedule The Big Rocks

The Big Rocks are your most important priorities, so put them into your schedule first! That way, you make the less important things (gravel) fight their way into your calendar, not the important things.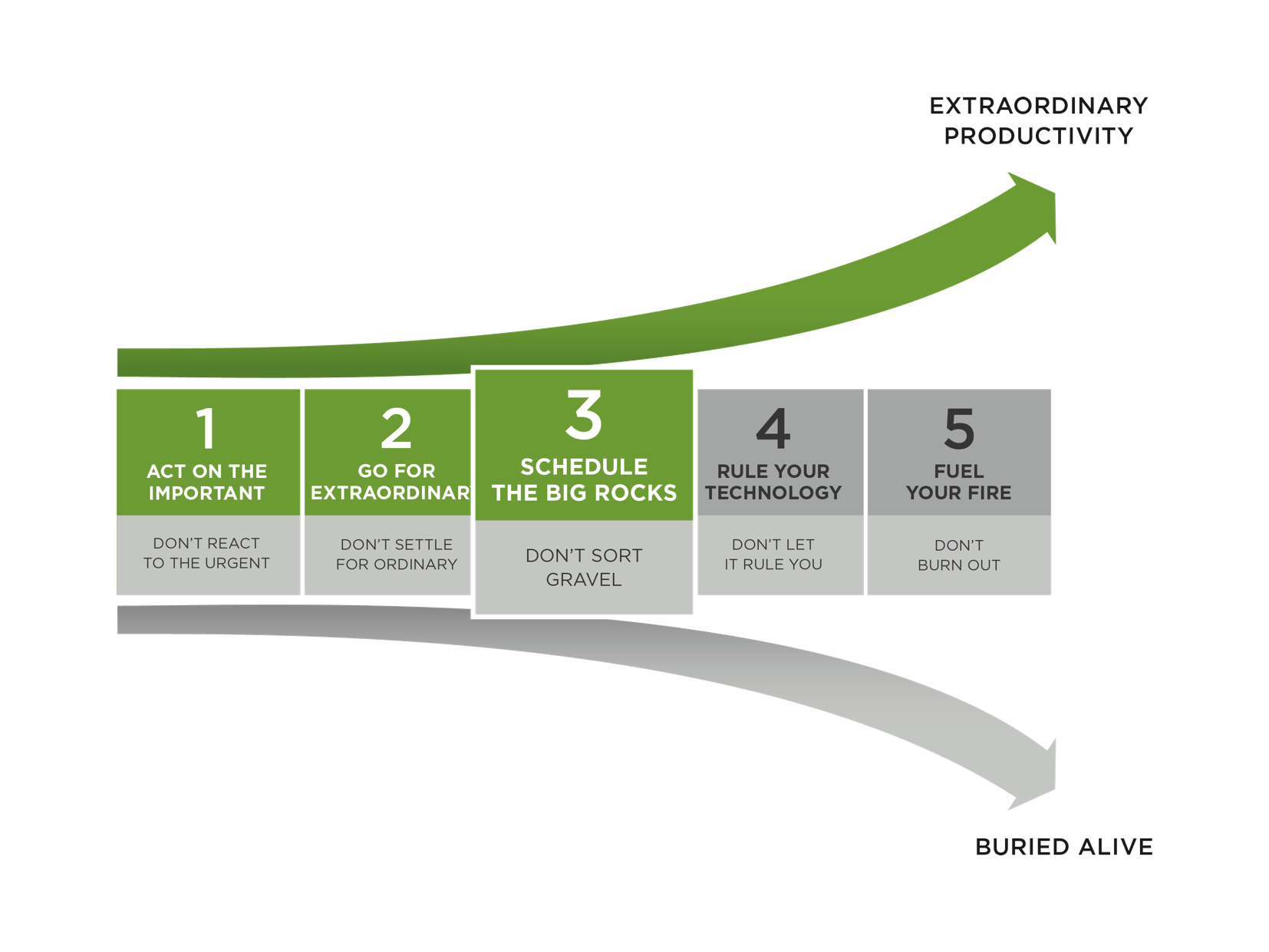 They key shift in thinking for Choice 3 is to realize that you can never get ahead by just sorting through the gravel faster. It's a losing battle. Instead, you must decide what is most important, then schedule your weeks and days in such a way that you can focus your precious attention and energy on those things.
Solutions That Focus on Scheduling the big rocks