Choice 5 : Fuel Your Fire,
Don't Burn Out


Productivity
"The energy of the mind is the essence of life."

Choice 5: Fuel Your Fire, Don't Burn Out
Simple yet critical ways to increase energy so you can think clearly, make good decisions and feel more accomplished at the end of every day.
Choices 1 through 4 target the brain as the number-one asset and tool that must be optimized. To be extraordinarily productive, we need to create a way of life that is intentional, consciously making the highest-value decisions virtually every minute of the day. We need to cultivate the state of mind that allows us to detect the subtle thoughts about what matters in our work and lives, and make choices to schedule and execute those things first.

"Your mental energy comes from two basic sources: a powerful purpose and your physical body."


Kory

Kogon, Co-Author of The 5 Choices to Extraordinary Productivity
If we are going to master those skills, then fueling our brain with the large amounts of oxygen and steady glucose it requires, is the most important challenge we face. Our mode of life today – constant stress, poor diet, lack of exercise and sleep – leads to what scientists call exhaustion syndrome. The rest of us call it burnout. We continually push through each day, postponing the renewal time our brains and bodies need.
Fuel Your Fire

Today's exhausting, high-pressure work environment burns people out at an alarming rate. Consistently renew your sources of energy so that you can accomplish and enjoy the great things in your life.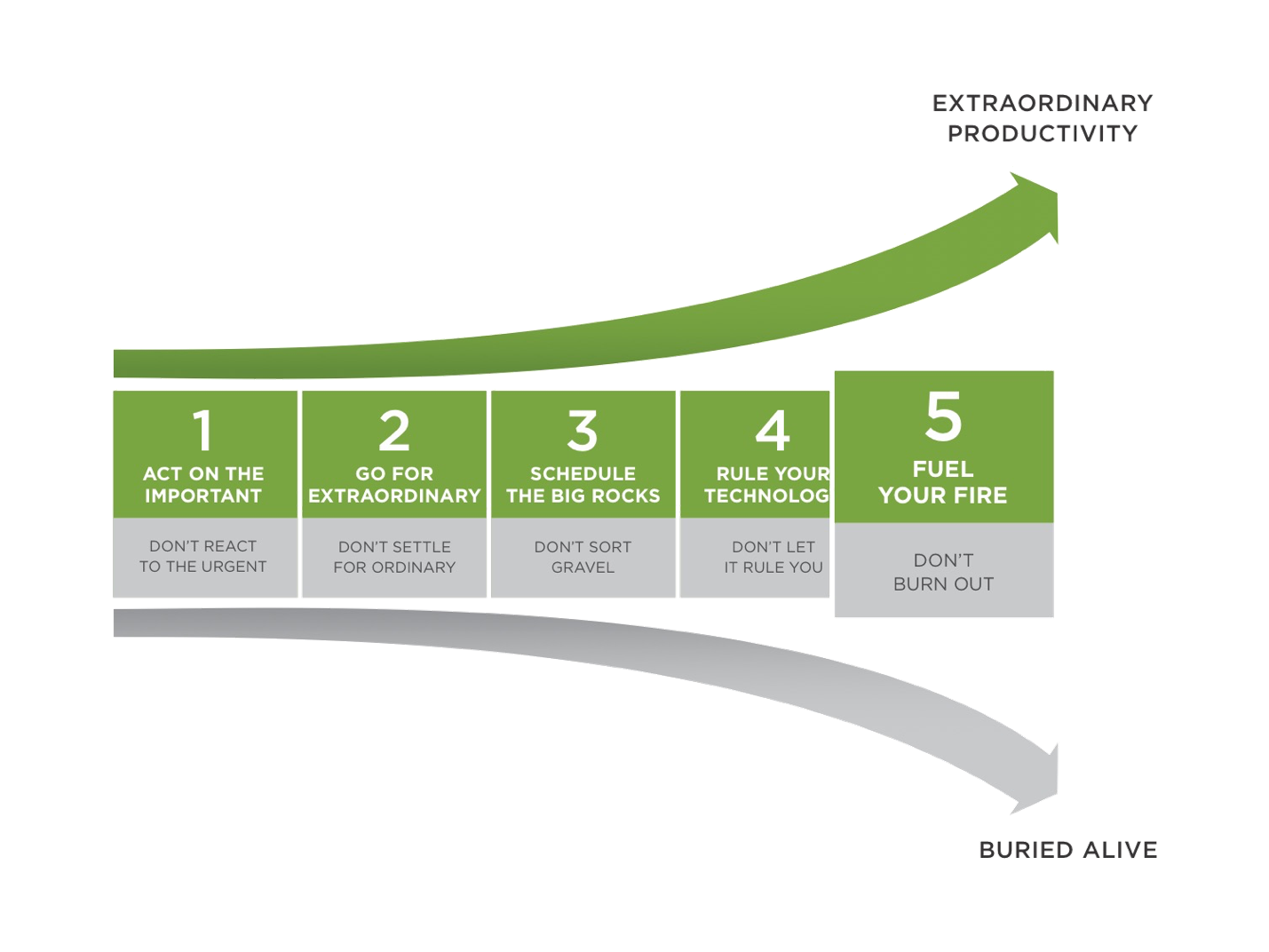 In order to generate the energy necessary to make Choice 5 a reality, you need a clear and motivating purpose and a healthy physical body. Coincidentally there are 5 drivers to generating energy: moving, eating, sleeping, relaxing and connecting. When you make regular investments into those 5 drivers, you create a pattern of life that fuels your fire and keeps you from burning out.
Solutions That Focus Help Fuel Your fire